11 Jan, 2016
[News] I-ON LAMS to enter into a Thailand DR market
---
SEOUL, South Korea – 11 January, 2016 – I-ON Communications Co., Ltd.(www.i-on.net/eng ), a leading solution provider of unstructured data management with 1,000+ customers globally, today announced it has partnered with Rockwell Automation Thai Co., Ltd., one of the world's largest company dedicated to industrial automation and information for the project of "Demand Response (DR) Demonstration Project in an Industrial Estate". The project is hosted by EPPO (Energy Policy & Planning Office – Thailand's Policy Maker) and implemented by WADE THAI (World Alliance for Thai Decentralized Energy) using Energy Conservation Fund (Encon Fund).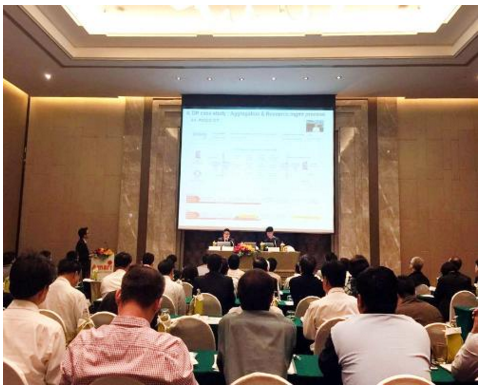 Demonstrated its technical stability by a worldwide group of testing laboratory Intertek, I-ON had developed its own DR management solution based on OpenADR 2.0. LAMS interfaces with systems in KPX (Korea Power Exchange) and KEPCO (Korea Electric Power Corporation) and provides systematic management of demand response supporting real-time data and encourages consumers to voluntarily participate in the DR program.
I-ON was invited as a speaker at 'DR Demonstration Project Closing Seminar' held in Thailand, January 6 and introduced its own DR solution 'LAMS (Load Aggregator's Management System). "We're happy to get positive feedback on our DR solution from various government bodies and vendors in SmartGrid sector of Thailand.", said James Jae-choel Oh, CEO of I-ON Communications.
About I-ON Communications Co., Ltd.
I-ON Communications has been a leading CMS(Content Management System) provider since its establishment in 1999. With no.1 market share in Korea and Japan, our expertise in Enterprise level Content Management solutions has a proven track record by 1,000+ commercial references and a wide range of projects with government, world renowned partners. As a winner of 2014 Red Herring Top 100 Asia and Gartner Magic Quadrant vendor for ECM(Enterprise Content Management), we look forward to communicating with any potential partners around the globe.
Learn more about I-ON products : http://www.i-on.net/eng/product/ics/index.html
Contact us
15, Teheran-ro 10-gil, Gangnam-gu,
Seoul, 135-080, Korea
[Rep.]
T : +82-2-3430-1200
F : +82-2-3430-1205
U : www.i-on.net/eng
[Int'l Business Development]
T : +82-2-3430-1237
F : +82-2-3430-1205
---
List