18 Nov, 2015
[News] Meet the latest version of the e.Form service site, I-ON Communications
---
SEOUL, South Korea, 18 Nov, 2015 – I-ON Communications Co., Ltd., a leading solution provider of enterprise level unstructured data management with 1,000+ customers globally, today announced a website renewal of its mobile contract service e.Form.
e.Form, a mobile contract solution, facilitates a comprehensive management of electronic forms and makes business process from promotion, consulting, contract with e-Signature to data entry available on phablets(smartphones and tablet PCs).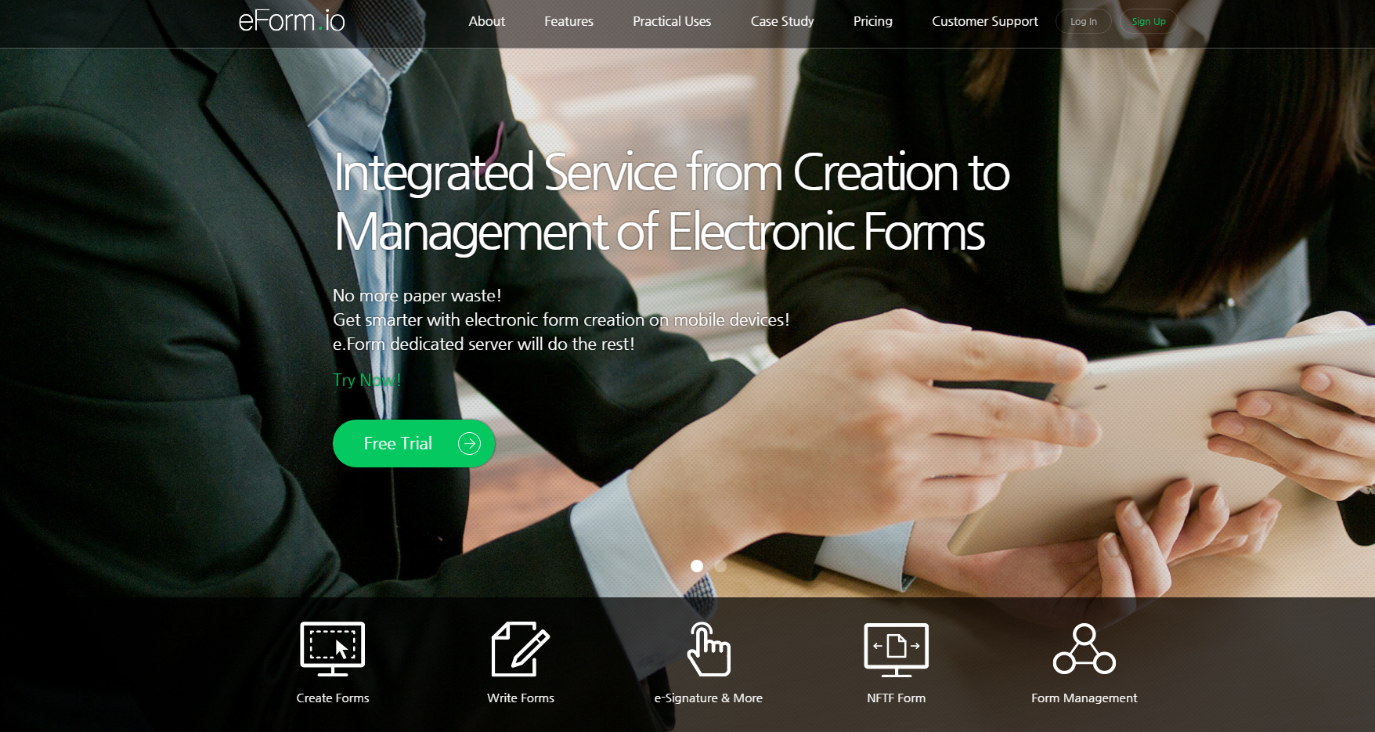 "Companies can save expenses for using paper, mailing, faxing and speed up sales process with our intuitive form generator, e-catalog upload, NFTF(non-face-to-face) form use, contract with e-Signature by adopting e.Form. We deliver SaaS(Software as a Service) based on our own distributed repository so that the organization can make the best use of e.Form without the need of a big initial investment.", said James Jaecheol Oh, CEO of I-ON Communications Co., Ltd. "Improvement of SME productivity is linked directly with enhancement of national competitiveness. SaaS product like e.Form could be a good resolution for this as most of SMEs are lack of IT manpower and have limited capital.", he added.
The latest version of e.Form service website is available at https://www.eform.io/service/index.doand anyone who is interested in the service can get a demo account for one month free trial now.
About I-ON Communications Co., Ltd.
I-ON Communications has been a leading CMS(Content Management System) provider since its establishment in 1999. With no.1 market share in Korea and Japan, our expertise in Enterprise level Content Management solutions has a proven track record by 1,000+ commercial references and a wide range of projects with government, world renowned partners. As a winner of 2014 Red Herring Top 100 Asia and Gartner Magic Quadrant vendor for ECM(Enterprise Content Management), we look forward to communicating with any potential partners around the globe.
Learn more about I-ON products : http://www.i-on.net/eng/product/ics/index.html
Contact us
15, Teheran-ro 10-gil, Gangnam-gu,
Seoul, 135-080, Korea
[Rep.]
T : +82-2-3430-1200
F : +82-2-3430-1205
U : www.i-on.net/eng
[Int'l Business Development]
T : +82-2-3430-1237
F : +82-2-3430-1205
E : [email protected]
---
List