26 Jun, 2017
[News] e.Form reseller partnership with ALCC for the Thailand market
---
SEOUL, South Korea – 26 Jun., 2017 I-ON Communications Co., Ltd., a leading unstructured data management solution and service provider based in South Korea (www.i-on.net/eng ), today announced that it has signed an exclusive reselling partnership with ALCC, a Thailand-based ICT system integration provider (http://www.alcc.co.th/) to expand its e.Form business into Thai market.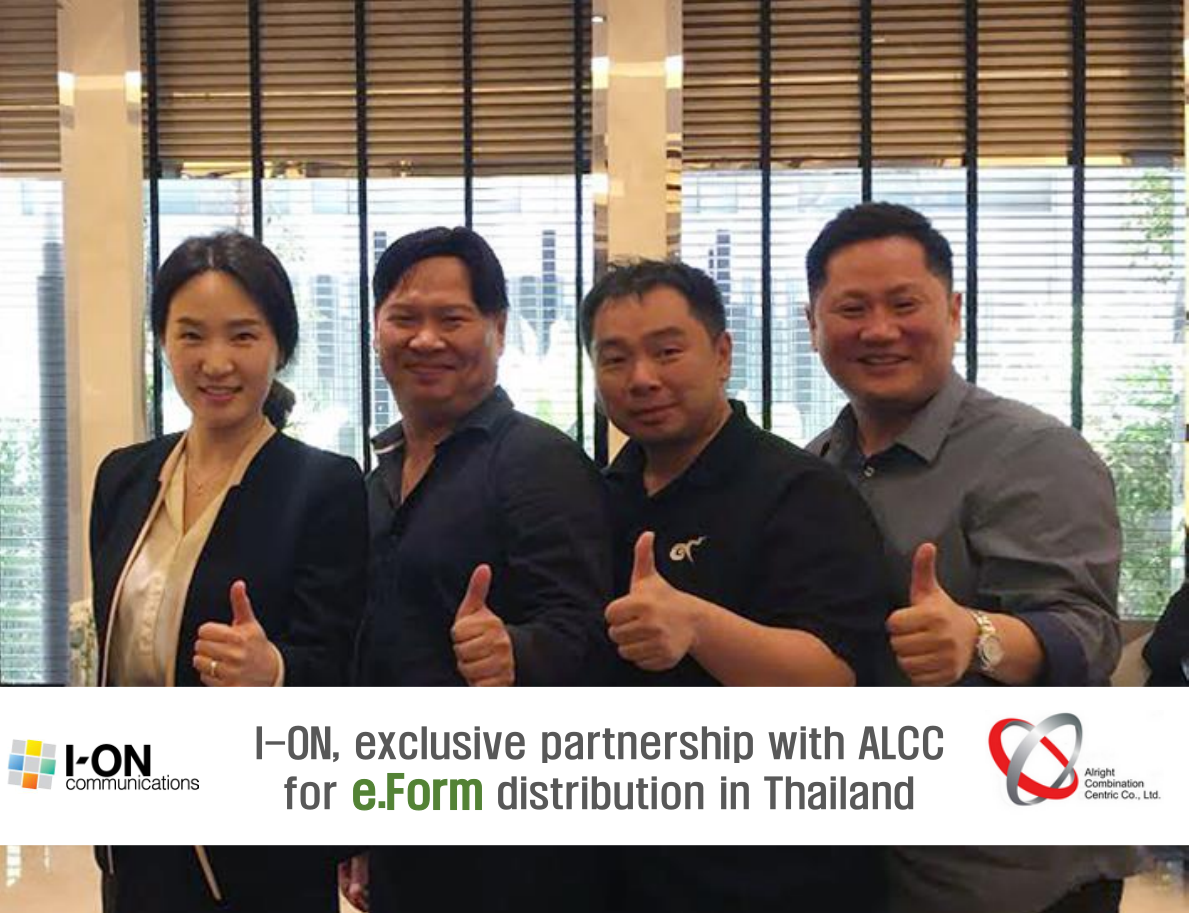 [I-ON (left) and ALCC (right)]
Digitization and automation of paper based work process have become a undisputed requirement in Thailand, the second largest economy in ASEAN countries.
I-ON Communications (CEO: James Jae Cheol Oh, www.i-on.net/eng ), Korea's leading unstructured data management specialist, announced on the 26th June that it has granted the exclusive sales right of e.Form to Thailand based ICT system integration provider ALCC (Alright Combination Centric Co., Ltd.). e.Form is a paperless contract service with e-Signature that has already attracted 700+ customers in South Korea.
Founded in 2011, ALCC is a system integrator in the IT and telecommunication network sector located in Bangkok, Thailand, one of the fast-growing economy in Asia.
ALCC plans to expand its business into the ​​ECM (Enterprise Content Management) sector in cooperation with I-ON Communications, an enterprise-level unstructured data management solution and service provider.
Managing Director of ALCC, Adisak Phungsil said, "While I was looking for various e.Form vendors in Korea, I learned about I-ON Communications, which had already established a solid position in Korea and Japan in the enterprise content management (ECM) sector.", and said "I believe this partnership will benefit both companies in this digital first era."
James Oh, CEO of I-ON Communications said, "We are very pleased to partner with ALCC and we will keep fostering our relationship for both of us to expand business in the new sector, new region." and added, "It is our immense pleasure to do our utmost to support ALCC to market our products in Thailand with its local network in Thailand."
I-ON e.Form has been widely used by 1,500+ small and mid sized companies in local and overseas market including Manpower Group, Namyang Dairy Products, Kyowon, and Hikari Tsushin. e.Form has international patent on integrated authentication system based on the electronic contract as well as awarded Green Technology certification last year. It also won the grand prize at Japan Softbank mobile solution competition in 2011.
About I-ON Communications Co., Ltd.
I-ON Communications has been providing enterprise-class unstructured data management solutions and services since its establishment in 1999. With strong market presence in Korea and Japan, its expertise in Enterprise Content Management solutions has proven track records by 1,000+ commercial references and a wide range of projects with government, world renowned partners. Its offerings encompass Web Content Management, Electronic Document Management, Digital Asset Management and Demand Response Management in Smart Grid / Smart City. I-ON was awarded 2014 Red Herring Top 100 Asia, Gartner Magic Quadrant for WCM 2014 as 'a vendor may meet your needs' and multilateral joint R&D project Eureka, ITEA3.
Learn more about I-ON products: http://www.i-on.net/eng/product/ics/index.html
Contact us
15, Teheran-ro 10-gil, Gangnam-gu,
Seoul, 135-080, Korea
Rep.
T: +82. 2. 3430. 1200
F: +82. 2. 3430. 1205
Int'l Business Development
T: +82. 2. 3430. 1237
F: +82 .2. 3430. 1205
---
List