30 Nov, 2015
[News] I-ON supplies its mobile contract solution e.Form to Japan's Hikari Tsushin
---
SEOUL, South Korea – 30 November, 2015 – I-ON Communications Co., Ltd.(www.i-on.net/eng), a leading solution provider of unstructured data management with 1,000+ customers globally, today announced it has signed a supply contract on its mobile contract solution e.Form with Hikari Tsushin, a Japanese telecommunication service provider(http://www.hikari.co.jp/).
Hikari Tsushi, with its main business in sales of office automation equipment, telecommunication line services, planning and sale of internet advertising, sales of mobile phones and insurance policy, was facing massive paper handling including printing, distribution, retrieval and storage. "To make all the paper form management easier, we adopted e.Form that enables all these work processes available in iPad." Hikari said.
By leveraging e.Form in a private cloud, Hikari is expecting to not only reduce cost from paper forms management but also to prevent personal information leakage. "For the nationwide sales representatives, e.Form facilitates easy sales activity reports." Hikari said.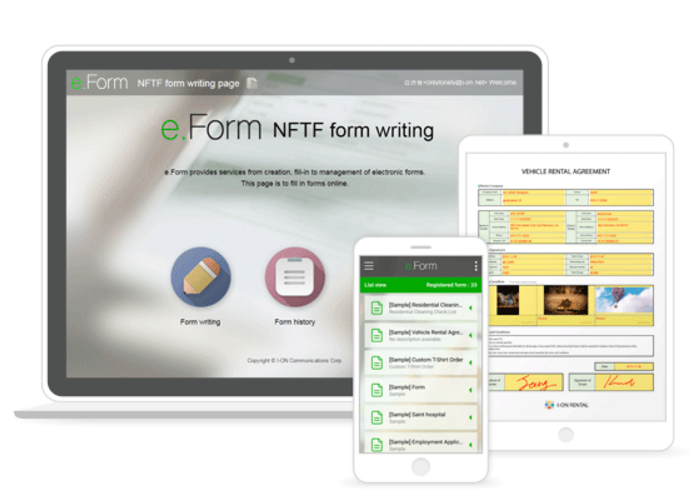 I-ON e.Form, a mobile contract solution, materializes a paperless office by making all the traditional business processes from promotion, consulting, contracting to data entry available in tablets and phones to speed up work processes and boost sales at the same time. "It's our pleasure and honor to supply our e.Form to a large company with 12,000+ employees like Hikari Tsushin." James Jaecheol Oh, CEO of I-ON Communicatinos said. "We'd take this opportunity to expand our e.Form business to European market." he added.
e.Form was demonstrated its technical excellence by Japan Softbank Mobile Solution Competition Award, Software Company Competitiveness Award, New Software Award and Green Certificate for 2 years in a row.
About I-ON Communications Co., Ltd.
I-ON Communications has been a leading CMS(Content Management System) provider since its establishment in 1999. With no.1 market share in Korea and Japan, our expertise in Enterprise level Content Management solutions has a proven track record by 1,000+ commercial references and a wide range of projects with government, world renowned partners. As a winner of 2014 Red Herring Top 100 Asia and Gartner Magic Quadrant vendor for ECM(Enterprise Content Management), we look forward to communicating with any potential partners around the globe.
Learn more about I-ON products : http://www.i-on.net/eng/product/ics/index.html
Contact us
15, Teheran-ro 10-gil, Gangnam-gu,
Seoul, 135-080, Korea
[Rep.]
T : +82-2-3430-1200
F : +82-2-3430-1205
U : www.i-on.net/eng
[Int'l Business Development]
T : +82-2-3430-1237
F : +82-2-3430-1205
---
List