07 Dec, 2020
I-ON Communications Participates in Various Online Business Meetings During COVID-19
---
I-ON Communications Co., Ltd. ("I-ON" or "Company"), an expert in developing enterprise-level unstructured data management software and digital solution leader in the region, participated in many different online events and is adapting well to the COVID-19 effects on the world of business. The pandemic has had a tremendous impact on international business as there has been a halt in business trips due to travel restrictions. As a result, the majority of companies worldwide are adjusting to the trend of non-face-to-face meetings, actively utilizing online infrastructures such as Zoom and Google Meets. In line with this trend, I-ON Communications has actively participated in plenty of online events including virtual exhibitions, online meetings, etc. and here are some of the events we took part in.
ICT Business Partnership 2020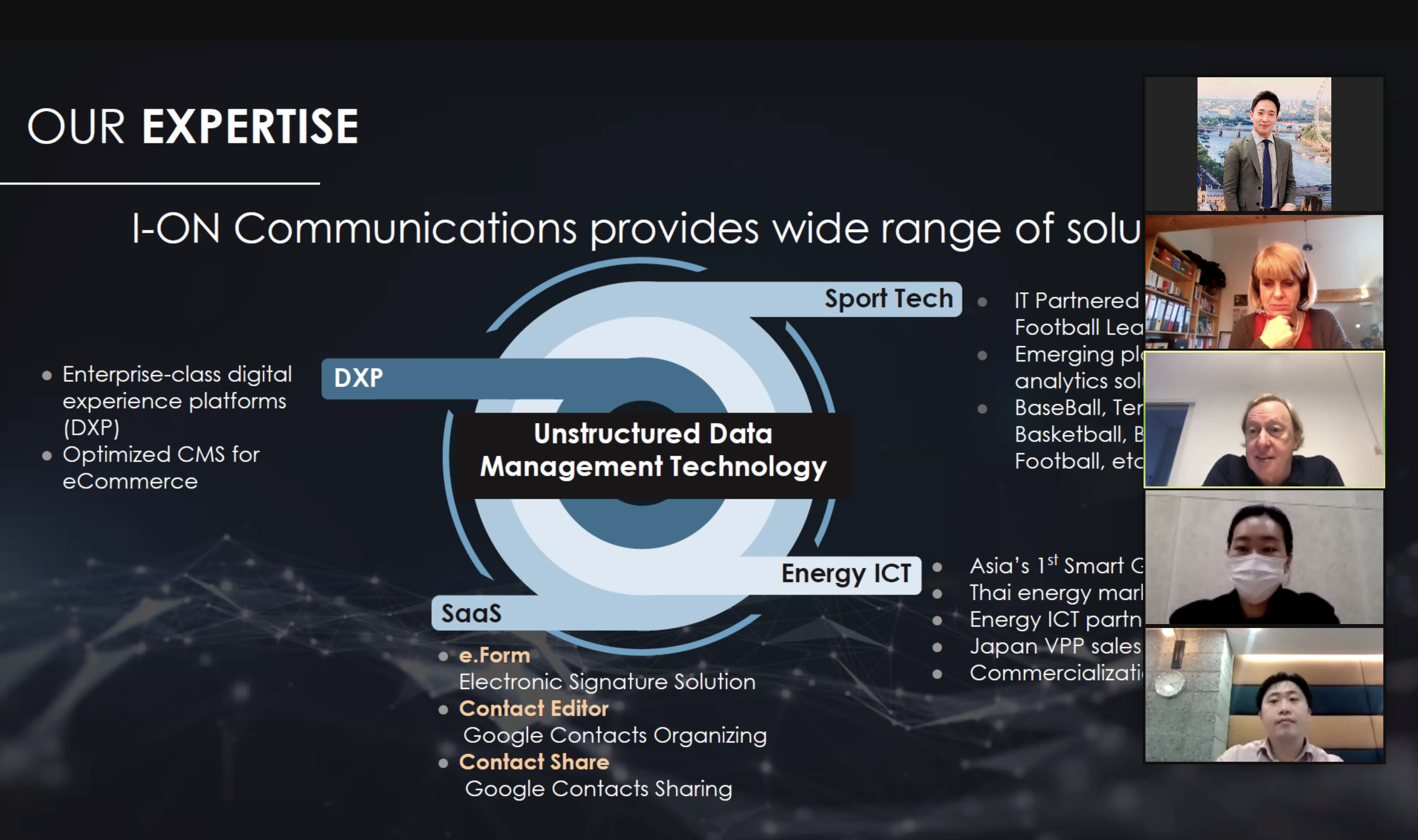 On October 30, I-ON participated in the ICT Business Partnership Online Export Meeting hosted by the National IT Industry Promotion Agency ("NIPA"; nipa.kr), at the Startup Branch in COEX, Seoul, South Korea. The event took place with a focus on providing non-face-face meetings for South Korean SMEs with buyer companies from Thailand and Vietnam so that the South Korean ICT SMEs can find opportunities to enter the new Southeast Asian ICT markets. Through this program, I-ON, one of the promising software companies in Korea, carried out 8 meetings with Thai and Vietnamese ICT companies and had the chance to introduce its DXP, Sports ICT, Energy ICT, and SaaS products to a broad network of buyers, distributors, and strategic partners.
K-Cloud Scale-Up Summit
From November 11 to 17, online business meetings and exhibitions were held during the K-Cloud Scale-Up Summit organized by Korea Software Industry Association ("KOSA"; sw.or.kr). The main theme of this online program was "the trend of SaaS (Software as a Service) in the Post-COVID19 era. It focused on entering the Southeast Asian market regarding SaaS based on cloud platforms. I-ON participated in the event with its SaaS product, e.Form, which is an electronic signature solution. e.Form is the perfect SaaS for non-face-to-face meetings both during and after COVID-19 as it is quick, affordable, and convenient to use. I-ON engaged in a total of four business meetings with Vietnamese buyer companies. It was a great opportunity to further discuss potential business with the Southeast Asian companies. Until the end of the year, the online exhibition will be held. (https://kcloudexpo.com/)
Online Korea AI Open Innovation Centre Program with DMZ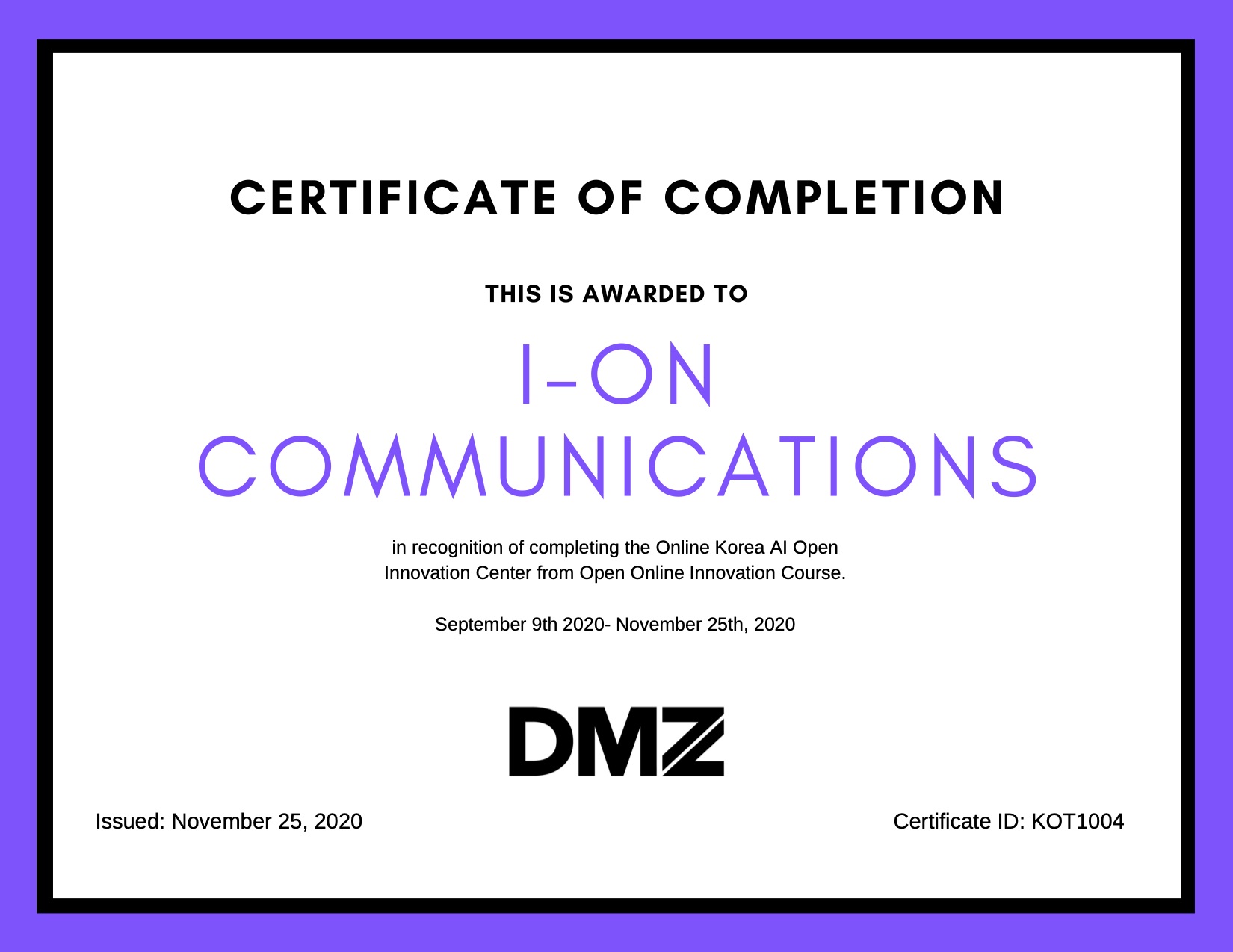 [Open Online Innovation Program Certificate of Completion]
I-ON participated in the Online Korea AI Open Innovation Centre Program from September 9 to November 25. The program was led jointly by DMZ, Canada's leading growth and sales accelerator, and the KOTRA Toronto. Canada is a country where the IT industry is actively progressing in the field of VR, fintech, healthcare, and edutech using AI. Over the span of more than two months, weekly online mentoring partnership program regarding marketing strategies, and webinars on the Canadian Tech Ecosystem took place and selected DMZ founders shared their learnings with the participants chosen by KOTRA to inform of the key concepts to be aware of when looking to operate their business in another country. This program was a great opportunity for I-ON to lay the foundation for entering the North American market.
"Despite the worsening situation of the pandemic, I-ON Communications is actively finding ways to participate in various online business events to discover potential business partnerships and buyers. Although there are still limitations of entering the foreign market due to COVID-19, we are continuously preparing in advance so that we can enter the foreign market right away once the pandemic subsides," said Bruce S. Lee, Head of International Business Development Team at I-ON Communications.
---
List