29 Apr, 2020
[News] eForm - Delivery Hero Korea's choice
---
I-ON Communications, ("I-ON", "Company"), expert in unstructured data management, digital solutions leader in the region and developer of Korea's first electronic signature service eForm, has announced on April 20 that Delivery Hero Korea, one of the leading online food ordering and delivery companies, has chosen I-ON's eForm as electronic document management solution for their business.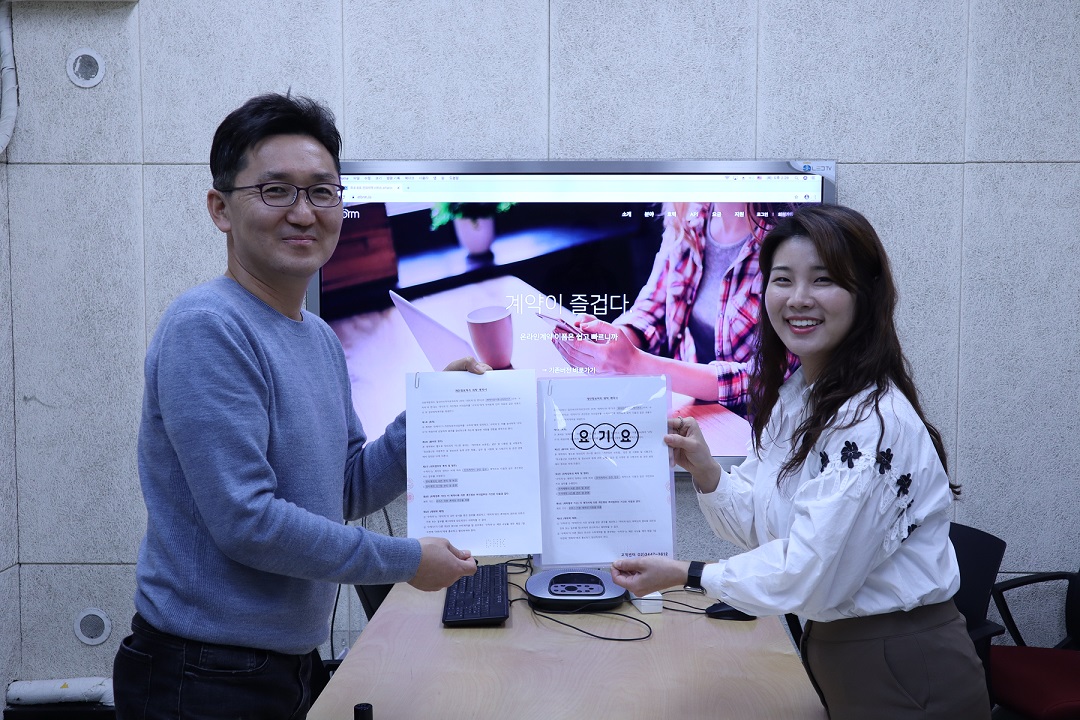 [Rex Yu, I-ON Director of Service Platform Division and SunHee Im, Delivery Hero Korea Manager]
The number of people working from home has increased and the need for doing business remotely has grown in the past few months, so as a result, many companies are looking for the right electronic signature service for their business, and Delivery Hero Korea chose I-ON Communications' eForm among several other e-signature providers.
Electronic signature solution eForm has API technology that allows for smooth integration with company's software such as ERP, CRM, HCM, Groupware etc., for easy internal use of the service, and makes regular updates to enhance the convenience and provide stable and innovative service to its corporate customers.
"What separates us from the rest is our ability to quickly and easily automate processing of electronic documents. In the second quarter, we also plan to roll out some new features that are not provided by other e-signature solution providers," said Rex Yu, Director of I-ON Service Platform Division.
I-ON Communications introduced eForm 2.0 as a new product to the market in 2012, and has provided it as a service since 2014, after which came the latest version of the service in 2018, eForm 3.0, with an upgraded system and UX, and is currently being used by about 10,000 companies from various industries, including the medical, manufacturing, finance, distribution and service industries.
eForm is an electronic document management solution that supports online processing of not only 1:1 contracts, but a diverse forms of online documents such as multi-party contracts, agreements, reports, applications and consent forms. With eForm, electronic documents can be created, sent, and signed in just a couple of minutes with the eForm bulk sending option that allows for simultaneous sending to more than 1,000 recipients via email, SMS, and messaging applications.
eForm won numerous prizes and certifications, has several patents, particularly in Japan, Singapore and Malaysia, and is growing into a global electronic signature service that attracts attention not only in Korea but also abroad.
---
List