01 Nov, 2019
[News] I-ON Communications participates in GMV 2019
---
From October 30 to October 31, I-ON Communications Co., Ltd. ("I-ON" or "Company"), took participation in GMV (Global Mobile Vision) 2019. This two day exhibition was organized by Kotra with the support from Ministry of Trade, Industry and Energy and Ministry of Science and ICT and it held place at Ilsan KINTEX Exhibition Center. The purpose of this event was supporting Korean companies' overseas expansion by inviting 200 foreign buyers to Korea and organizing business meetings, seminars, conferences, exhibitions and pitch competitions.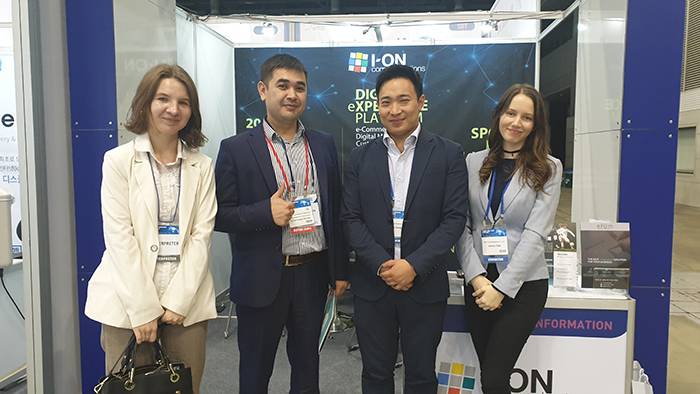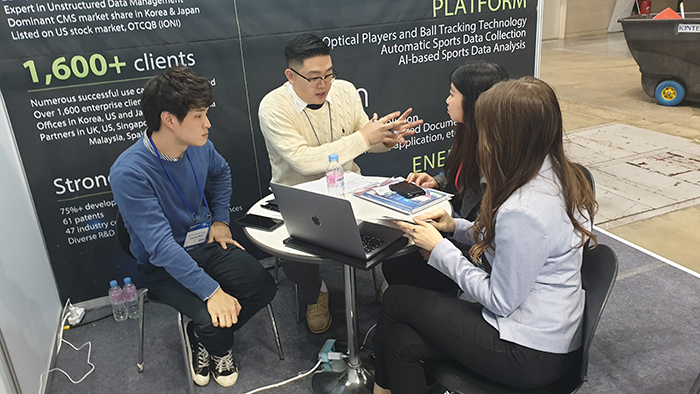 I-ON Communications, expert in unstructured data management, attracted much attention from the foreign buyers working in the fields of IT, ICT, Edutech, Fintech, Machine Learning & AI, Multimedia Content & Service, IoT and Smart City. During this event, I-ON presented its Digital Experience Platform ICE, Sports Data Platform, electronic signature solution e.Form, and Energy data management solutions and had the honor to hold business meetings with exceptional foreign companies and organizations who took interest in innovative I-ON technology.
"In this digital transformation era, the IT industry is intertwined with so many other fields and our Company's digital solutions can be integrated and applied to diverse areas. We had interesting discussions with companies from all over the world who have so many brilliant ideas that we cannot wait to start collaborating on joint projects in the Energy sector, Sports Tech and Content Management" said Bruce S. Lee, Head of International at I-ON Communications.
At Korea's largest IT exhibition and business meeting event, the Company also signed a distribution contract with EFORM PTE LTD ("EFORM")
, a Singapore based IT firm. The two companies had built a strong business relationship over the years and decided to combine efforts and start actively working together on electronic signature solution. At the contract signing ceremony, EFORM officially became an authorised distributor of I-ON Communications' electronic signature solution e.Form for the Singaporean and Malaysian market.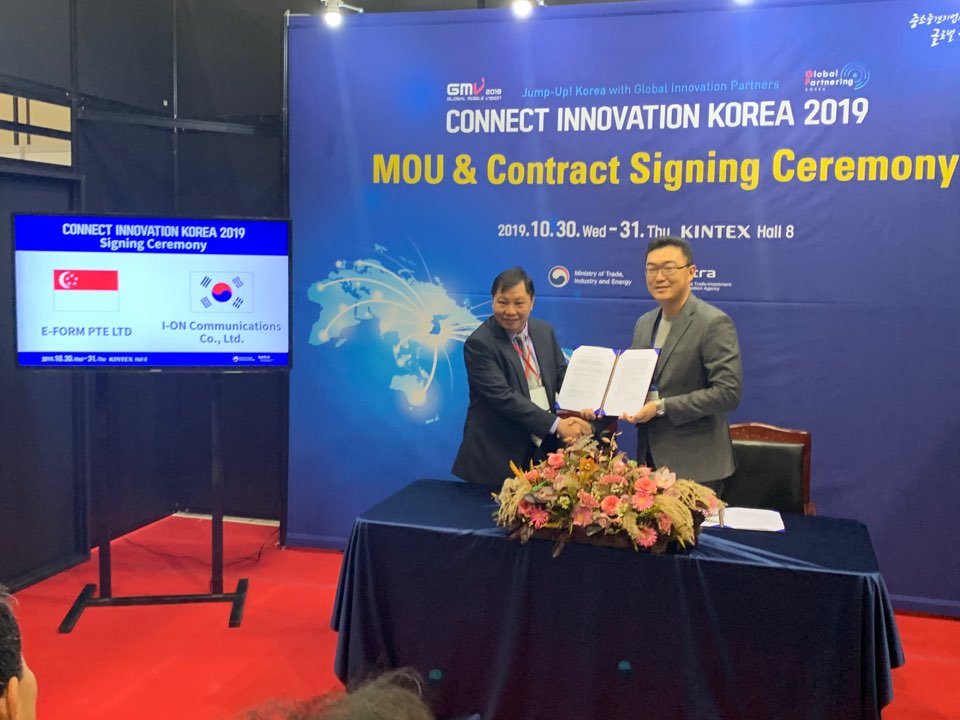 (from left:
EFORM CEO Steven Lau
and I-ON Communications CEO James Oh)
"Our e.Form business is flourishing at home but now we are ready for the next step. This contract with EFORM is a stepping stone for our international expansion in the e-signature and fintech fields as it opens new doors for us and of course, strengthens our partnership. We are ready to take over the international market and we will continue to push forward until we reach the top of the market share" said James Oh, I-ON Communications CEO.
---
List