19 Jul, 2019
[News] I-ON Communications signs MOU with Roborus for collaboration in ICT area
---
I-ON Communications Co., Ltd ("I-ON", "The Company"), the leading Sports Data software provider for amateur and youth sports based in Korea, signed a MOU for cooperation in ICT industry with Roborus Co., Ltd. ("Roborus"), a tech company developing facial recognition technology combined with an AI-based personalized smart ordering system.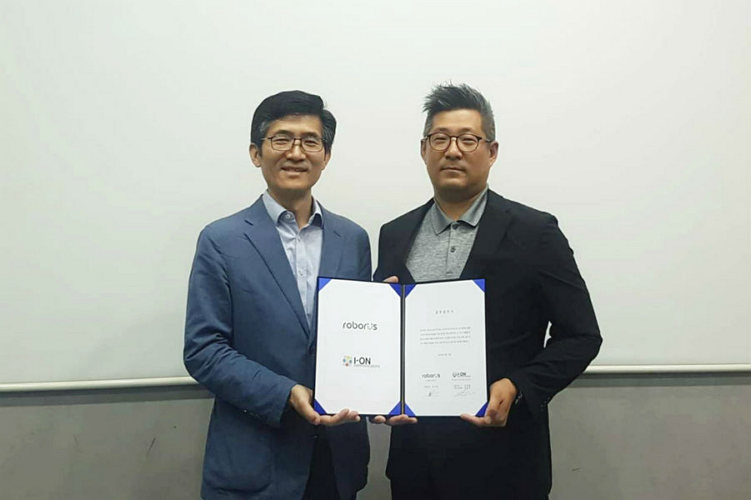 (from left, Roborus CEO Daehoon Kim and I-ON Head of Event Tech Department Jeff Ahn)
Roborus' smart ordering system TUNE and personalized order-taking robot POCA have emotional intelligence that recognizes the voice and facial features of customers. When recognized, the returning customer can get a personalized greeting, discounts and order suggestion based on their past behaviour and preferences. With Roborus' facial recognition technology, the system can also identify the customer's emotions based on facial expressions and then measure the customer's satisfaction level.
"Roborus is one of the leaders in AI field in Korea, with an amazing track record of connecting facial recognition technologies with smart ordering system, and we are thrilled to enter into an agreement with such an exceptional player in ICT field" said Jeff Ahn, Head of Event Tech Department at I-ON Communications. "We are proud to extend our positive relationship into MOU and are looking forward to exciting IT projects in the near future. I am positive that a brilliant collaboration in the Sports tech sector is ahead of us and we at I-ON are anticipating amazing outcome."
I-ON Communications has developed a Sports Data Platform that can enhance the amateur and youth sports by providing them with technology that collects and analyzes players' and game data, crucial for coaches and athletes that want to improve their performance. It also offers AI-based team matching feature that can connect players of the same performance level and live streaming feature that can engage fans and make it easier for family and friends to follow their favorite players wherever they are. Through this MOU, The Company can start working on incorporating Roborus' facial recognition technology into their Sports Data Platform and eliminating unqualified or unregistered players participating in the games or competitions they haven't registered for. Since amateur and recreational sports usually don't have high security checks, it's difficult to control and verify all the players. Proven facial recognition technology by Roborus would be a perfect way for I-ON to eliminate unregistered players and provide an even more secure service to its valuable users.
"As Korea's leading Sports tech company, we are proud to join hands with a recognized and reliable ICT provider, Roborus. Connecting our know-how and accumulated experience will without a doubt bring outstanding results" stated James Oh, I-ON CEO. "We are always committed to providing the best service to our clients which means never stop pursuing innovation and looking for ways to improve our technology every step of the way. This is a perfect opportunity to bring the best out of our Sports technology and together create even better, more reliable solutions."
---
List