04 Jul, 2019
[News] I-ON Communications acquires sales and distribution rights in Korea for Lineable's wearable devices
---
On June 25th, I-ON Communications Co., Ltd., an expert in unstructured data management, has entered into a distribution agreement with Lineable Inc., a hardware company specializing in developing smart wearable devices, sensors and location tracking solutions.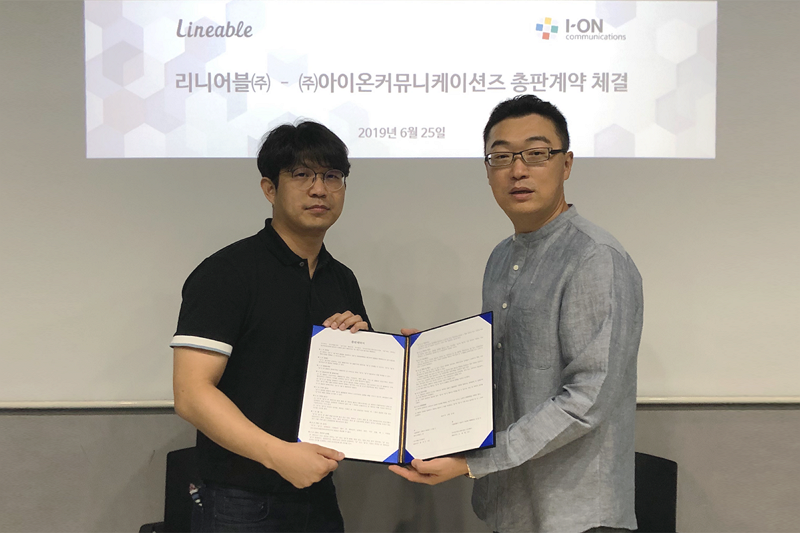 Through this agreement, I-ON Communications has acquired sales and distribution rights of wearable devices produced by Lineable, starting with Lineable One. Lineable One is a wearable band that tracks children's location, health status and activity and its main focus is preventing missing children in case of emergency. This device uses LoRaWAN technology, efficient for tracking location, so parents can at any time access their children's GPS information and heart rate in real time. The parents can also predetermine a "safe zone" and get notified through a mobile app when a child enters or exits it, as well as if it leaves the parent's vicinity or a device gets detached.
I-ON Communications is revolutionizing sports with its Sports Data Platform. The platform is AI based and designed to make amateur, recreational and youth sports more exciting and convenient by analyzing crucial sports data and bringing valuable insights into the hands of coaches, players and fans. Leading the Sports Tech market in Korea, I-ON Communications can now broaden its reach by incorporating wearables, GPS tracking and heart rate monitoring into their set of offerings. The consistent growth of I-ON sports data business has resulted in a demand for diversifying its scope from software-only products to including hardware elements with biometric sensors. This approach is set to enrich its Sports Data Platform and strengthen I-ON's position in the Sports Tech field.
---
List