02 May, 2019
[News] I-ON Communications signed a MOU with Hansol Inticube for conducting joint DXP/AICC projects
---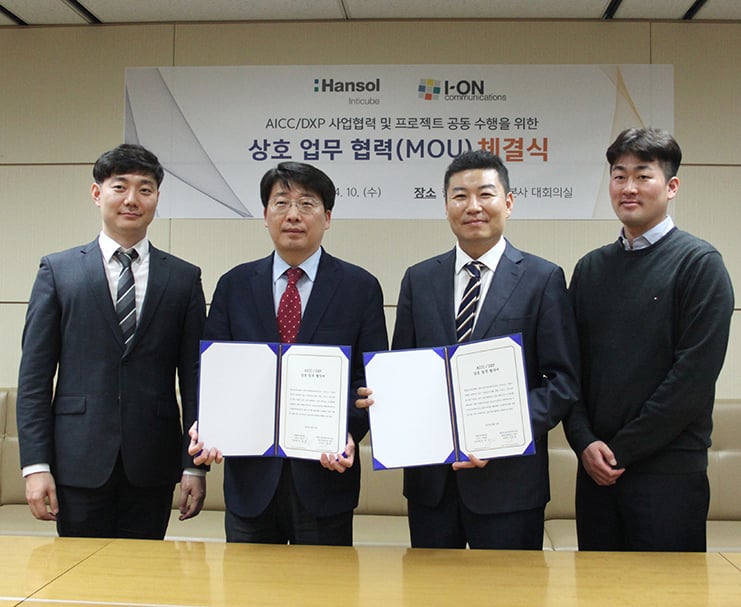 [From the left, Hansol Inticube and I-ON Communications Representatives]
Last April 10, expert in DXP (Digital Experience Platform) I-ON Communications (CEO James Jaecheol Oh, www.i-on.net) signed a MOU with Hansol Inticube (CEO Gwangseon Go, www.hansolinticube.com) a company specializing in IT solutions, for conducting joint projects.
The objective of this agreement signed by both companies is mutual cooperation in businesses with infinite potential for business opportunities such as establishment of business information system, service, maintenance etc. Top priority will be a mutual cooperation in I-ON Communications CMS, DXP (Digital Experience Platform) related business and business field based on AICC (Artificial Intelligence Contact Center) that is leading Hansol Inticube's communication platform brand, Inticube ISAC, and after that gradually expand the cooperation in Saas or On-Premise fields.
Through Digital Experience Management Platform 'ICE 3.0 (I-ON Content Ecosystem 3.0)', I-ON Communications, as an expert in DXP, is analyzing customers' digital touchpoints journey, and from decision making process to purchase, all content is contributed for providing a diverse customer experience.
Having developed a platform applicable to various fields, I-ON Communications has various case studies which goes on to prove its expertise. Hansol Inticube, as the number one company in the contact center market, supplies total communication solutions that encompass development and consulting/construction/maintenance of their own solution.
I-ON Communications representatives have also expressed their expectation that with this agreement they can provide a more valuable service to their customers by connecting I-ON DXP platform to AI based chatbot-like Hansol Inticube's skills and know-hows.
---
List