26 Jul, 2017
[News] I-ON DR solution, green-lighted by Japanese market
---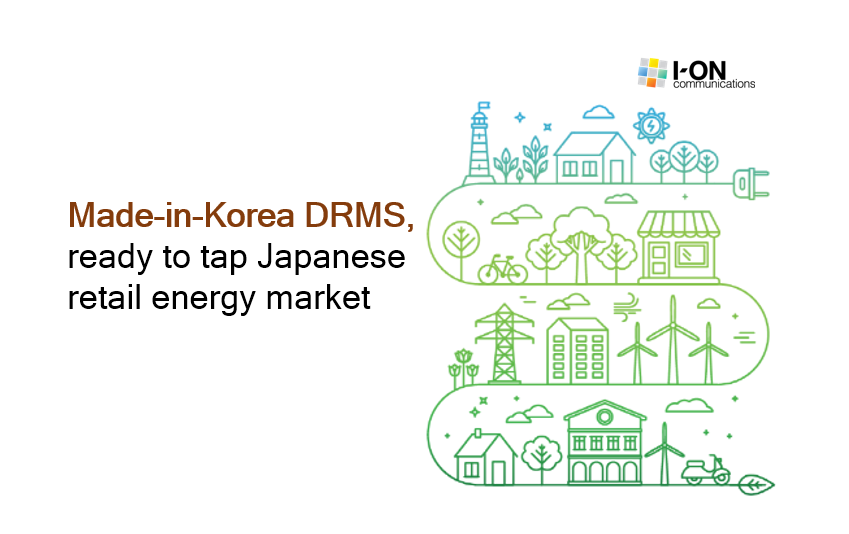 Accelerating business with a potential market opportunity in Japan and participation in a government-led project in Korea
SEOUL, South Korea – 26 July, 2017 – I-ON Communications Co., Ltd., a leading unstructured data management solution and service provider based in South Korea (www.i-on.net/eng ), today announced that its power demand response management solution is currently under consideration by an IT giant in Japan.

The deployment of made-in-Korea DRMS(Demand Response Management System) in Japan is imminent.
According to I-ON Communications, the reduction of power generation cost has become a major issue in Japanese electricity market ever since the Japanese government officially announced 'thorough liberalization of retail electricity market'. This was also a significant agenda of 'TIS Business Forum 2017' held in Intercontinental Tokyo on last 12th. At the event, TIS Inc. (http://www.tis.com/), the host company and a large IT enterprise in Japan, officially mentioned the high likelihood of collaboration with I-ON Communications.
In fact, Taniguchi Kenichiro from the energy business department of TIS Inc. said in a speech, "We are considering integration with I-ON Communications' Demand Response (DR) solution, which is leading aggregation business with the most market share in Korea power market."
Load Aggregator's Management System (LAMS) of I-ON Communications is the Korea's first OpenADR2.0a/b certified system based on electricity market operation rules. I-ON added that they currently have the highest market share in Korea.
I-ON Communications is recently concentrating on the energy transaction as a new business stream. In May this year, I-ON was awarded a government-led project "SaaS development of Demand Response management associated with energy IoT", which fuels its business.
James Oh, CEO of I-ON said "As renewable energy is emerging as a major issue, the importance of efficient energy consumption will increase more and more around the world, and will become the key factor that determines the competitiveness of countries and companies."
About I-ON Communications Co., Ltd.
I-ON Communications has been providing enterprise-class unstructured data management solutions and services since its establishment in 1999. With strong market presence in Korea and Japan, its expertise in Enterprise Content Management solutions has proven track records by 1,000+ commercial references and a wide range of projects with government, world renowned partners. Its offerings encompass Web Content Management, Electronic Document Management, Digital Asset Management and Demand Response Management in Smart Grid / Smart City. I-ON was awarded 2014 Red Herring Top 100 Asia, Gartner Magic Quadrant for WCM 2014 as 'a vendor may meet your needs' and multilateral joint R&D project Eureka, ITEA3.
Contact us
15, Teheran-ro 10-gil, Gangnam-gu,
Seoul, 135-080, Korea
Rep.
T: +82. 2. 3430. 1200
F: +82. 2. 3430. 1205
Int'l Business Development
T: +82. 2. 3430. 1237
F: +82 .2. 3430. 1205
---
List